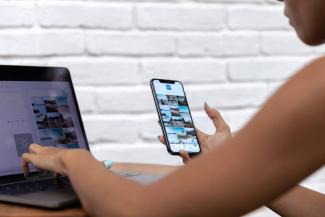 "As more small and medium-sized businesses shift towards hybrid working, better broadband becomes a priority."
That's one of the headline comments from Ofcom's Autumn Connected Nations report. The report, which reflects the position across the UK as at May 2022, examines the roll-out of mobile and fixed broadband coverage across the UK. Although the report concentrates on the availability of broadband for households, it has important implications for business as well; with faster broadband and VoIP availability enabling more people to work remotely and flexibly.
So how is the drive to improve access to fibre broadband going? Well, Ofcom report that eleven million households now have access to full fibre broadband, up from seven million the previous year. As a result, 37% of households can now benefit from broadband speeds of up to 1Gbit/s. At the other end of the speed spectrum, the number of households which cannot access speeds in excess of 10 Mbit/s has fallen by 38% to 83,000.
Business VoIP phone systems
What does this increase in fibre broadband availability mean for businesses? Independent research carried out on behalf of Ofcom has revealed a transformational shift in SME communications. Partly driven by the pandemic, SMEs are increasingly looking to hybrid working patterns allied to a greater use of fixed internet, mobile and voice services.
As a result, there has been a rapid transition towards VoIP services with only 51% of SMEs now using 'traditional' landline telephones. Moreover 78% of SMEs are looking to upgrade their communication services in the next twelve months. Perhaps that's why 83% of SMEs agreed that: "Communications services are fundamental to our business, without them we could not function as a business."
VoIP remote working
This shift towards hybrid working was forced upon some businesses by the need to maintain 'business as usual' during the pandemic. That the movement towards remote working has continued is in part being driven by the increased availability of fast fibre connections. So much so that 31% of SMEs think their broadband connection has become even more important since the start of the pandemic. With less than half of all SMEs now running purely office based operations, it is easy to see why the availability of strong internet communications have risen in importance.
VoIP, or internet telephony, can be a cost-effective way of maintaining communications across multiple sites. VoIP to VoIP calls across the same network are generally free of charge, meaning that remote workers can pick up the phone to the office and vice versa without having to worry about call costs. And with the ability to add a VoIP App to mobile phones, even those whose work requires them to move between locations can benefit from cost effective calling.
Callagenix offers VoIP business phone systems and services. Flexible and scalable, our VoIP systems can help businesses to connect their people across multiple sites and across the globe. If you would like to learn more about the power of VoIP communications for your business take a look at our website or give us a call.